Guideline on the Use of Built-in Antenna
Pay attention to the following to use the pattern antenna configured on the substrate. Although the wireless performance of the antenna is degraded if placed in a case, this degradation could be reduced by reference to this guideline. Also, we offer the antennae suitable for being placed in the enclosure.

Make sure to conduct the wireless test using a simulated enclosure prior to development.
Place an antenna around which there is no metal object. In particular, there must not be any metal plate or grounding pattern around the antenna as these objects give a significant impact on it (for instance, "exposure of the direction of the radio emission direction with a case made of metal plates at the back side" represents the arrangement that is likely to totally impair the performance.
Keep the whole circumference of the pattern antenna (see (3) below) 10cm or more away from any metal object.
A non-metallic case is recommended.
A case of mesh metal could deteriorate performance.
A case with a single side made of metal could also deteriorate performance.
The use of an external antenna is recommended if you use a metal case.
Use resin bolts and nuts for the mounting holes close to the antenna.
Place the antenna vertically so the maximized performance is expected.
Keep the antenna away from other wireless antennae (e.g. wireless LAN).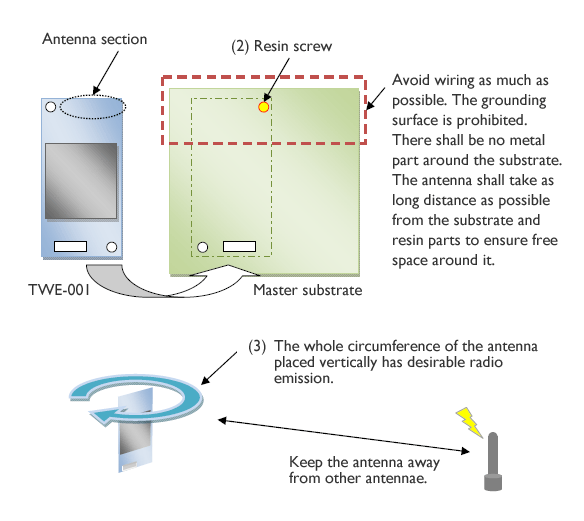 Wireless Products
Overview
Wireless Engine
Software
Evaluation, Development
Antenna
Technical Information
Instruction