TWE-ZERO Sagittarius
Product Name:

Sagittarius

Model no. :

TWE-ZERO-SAGITTARIUS
Sagittarius is the software to wirelessly send serial data.

It makes a connection over the simplest star network most stable in communication.

It provides the one-to-many (max. 10) wireless serial communication function.

It transparently transmits the serial signal from an external microcomputer, PIC or other devices to a destination microcomputer, PIC, etc.

It executes wireless UART communication between the Coordinator and End Device by using the UART interface.

It allows up to 10 End Devices to be connected to a Coordinator.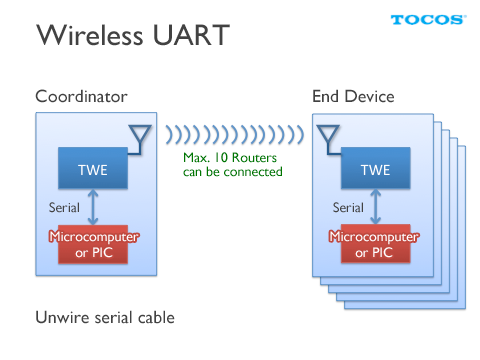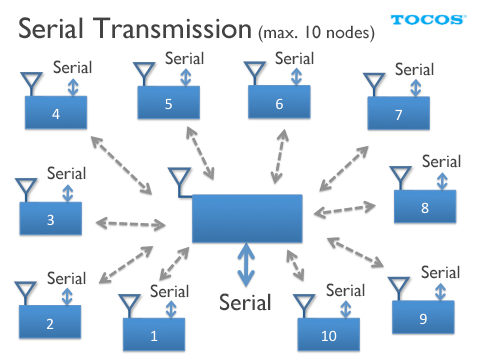 Features
Supports two modes with communication from the Coordinator to End Device (downlink):
- Broadcast mode for batch transmission to all End Devices
- Unicast mode for communication to individual nodes
Communication from End Device to the Coordinator (uplink)
- The destination of End Device shall be the Coordinator only. (Direct communication between End Devices is not available.)
Direct communication to the UART terminal of the module at 38,400 bps.
Settings for communication management by means of UART (serial).
Examples of Use
To unwire serial cables:
To send data from the measuring instrument.
To control the measuring instrument.
To send data from sensors.
Downloads
Software Manual
Execution binary files: Coordinator / End Device
Operation Check Manual
Wireless Products
Overview
Wireless Engine
Software
Evaluation, Development
Antenna
Technical Information
Instruction