TWE-ZERO Libra
Product Name:

Libra

Model no. :

TWE-ZERO-LIBRA
Libra is the software to wirelessly send the on/off signal.

It provides the function to send the on/off information on a switch etc. of an End Device to the Coordinator via wireless communication.

It transmits the "on" and "off" values from an End Device to a Coordinator at 8-bit parallel using the digital IO interface. It can be used for simple remote controllers or for relaying the relay contact state.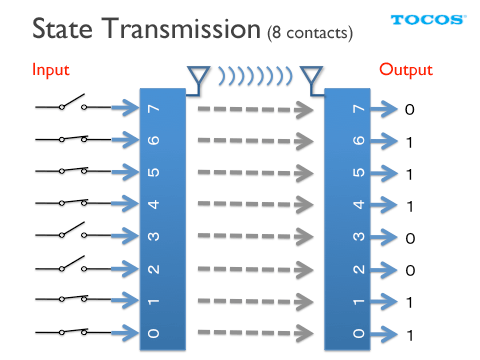 Features
8-bit parallel communication from an End Device to a Coordinator.
Packets are wirelessly transmitted when the state of the digital IO (DIO 8 to 15) of an End Device changes.
Node combinations or channels can be set by using UART (serial).
Starts communication immediately after power activation as the system does not require pairing.
Examples of Use
To read the switch state.
Remote controller (on/off control)
On/off control of lighting
On/off control of buzzers
Downloads
Software Manual
Execution binary files (with no sleep): Coordinator / End Device
Execution binary files (with sleep): Coordinator / End Device
Operation Check Manual
Reference Circuit Diagram (Example of turning on or off two LEDs and six relays of the Coordinator using eight switches on an End Device)
Wireless Products
Overview
Wireless Engine
Software
Evaluation, Development
Antenna
Technical Information
Instruction