TWE-ZERO Aries
Product Name:

Aries

Model no. :

TWE-ZERO-ARIES
Aries is the software to wirelessly send pulse count.

It provides the function to send the pulse signal generated from an End Device via wireless communication and count the signal with the Coordinator.

The Coordinator receives the pulse output (input information of a switch etc.) from an End Device as the pulse input. The maximum 8 End Devices can be connected.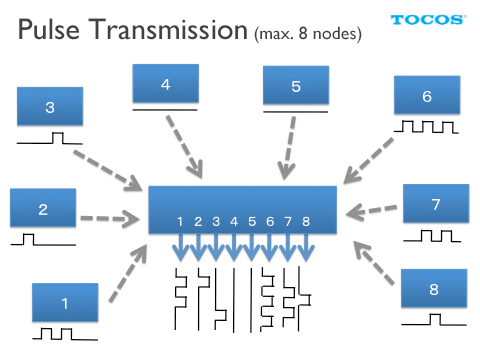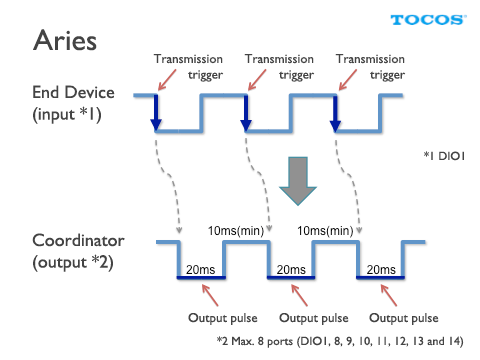 Features
Pulse transmission from max. 8 End Devices to the Coordinator at1 bit.
When the digital IO of End Device reaches the Lo level, packets are sent wirelessly with the IO as a pulse.
When receiving packets from an End Device, the Coordinator outputs a pulse to the corresponding digital IO.
Up to 255 pulses are retained and retransmitted in case of communication disturbance.
Operation can be set up from jumper settings of the digital IO.
Starts communication immediately after power activation as the system does not require pairing.
Examples of Use
To control output (e.g. relays).
- To control indicators
- To control buzzers
To count the number of times input (e.g. switches) is turned on or off.
- To count the number of times the door opens or closes
- To manage work history
- To manage work results
To count the number of pulses of input (e.g. encoder output).
Downloads
Software Manual
Execution binary files: Coordinator / End Device
Operation Check Manual
Reference Circuit Diagram (Example of blinking a corresponding LED on the Coordinator using a switch on an End Device)
Wireless Products
Overview
Wireless Engine
Software
Evaluation, Development
Antenna
Technical Information
Instruction